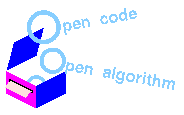 Welcome to project-O2
Last update: Aug. 25, 2014
---
English / Japanese (JIS)
---
What's new
O2-tools-2.01 has been released. [New: Aug. 25, 2014]
O2-dtools-2.00 has been released.
WeOCR project has been launched as another project. [Feb 28, 2005]
---
Index
---
In this project, named "project-O2", my colleague and I implement the methods which we have developed for document analysis and recognition, and release the programs positively, if possible, with source code. The released software is mainly for layout analysis.
Note: No OCR engine is included. Please see NHocr project at Google Code for an OCR engine.
The released packages contain some programs which may be convenient to many researchers, even if no new method is included.
The released programs have following limitations.
Unpublished new methods are basically not included except in some binary distributions.
Not all the published methods are provided.
Some minor improvements may be added to the published method.
Some minor modifications may be incorporated without a great change of the result of processing.
The source codes in the packages are not always easy to read or to understand, because the programs are originally made for my private experiments.
There are some limitations to use the released programs.
The programs are basically regarded as "Free Software", but not "PDS(Public Domain Software)". All rights are reserved.
I would greatly appreciate your bug-reports. However, I do not always support the programs. I do it when I want to do.
For details, please see documents in each package. The copyright notice looks like this:

/*--------------------------------------------------------------------
  Copyright (C) 1997-2008  Hideaki Goto

        All Rights Reserved

  Permission to use, copy, modify, and distribute this software and
  its documentation for any purpose is hereby granted without fee,
  provided that (i) the above copyright notice and this permission
  notice appear in all copies and in supporting documentation, (ii)
  the name of the author, Hideaki Goto, may not be used in any
  advertising or otherwise to promote the sale, use or other
  dealings in this software without prior written authorization
  from the author, (iii) this software may not be used for
  commercial products without prior written permission from the
  author, and (iv) the notice of modification is specified in cases
  where modified copies of this software are distributed.

  THE SOFTWARE IS PROVIDED "AS IS", WITHOUT WARRANTY OF ANY KIND.
  THE AUTHOR WILL NOT BE RESPONSIBLE FOR ANY DAMAGE CAUSED BY THIS
  SOFTWARE.
--------------------------------------------------------------------*/

---
.
---
All Rights Reserved, Copyright (C) Hideaki Goto 1997-2014
---
>> H.Goto's Home Page
>> www.imglab.org